TRY BEFORE YOU BUY
We've made choosing specialist seating easier
Talk with our team, try the options for yourself
Enquire now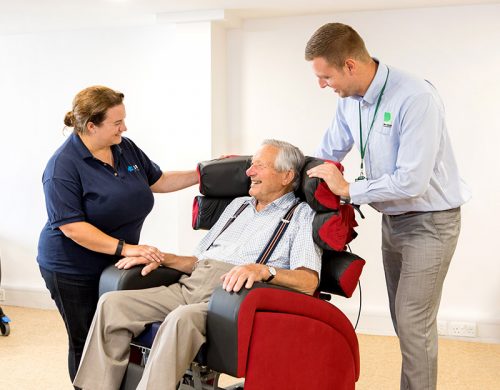 Come and try our most popular makes and models
Our Gloucestershire-based 'demo centre' stocks a wide selection of our chairs, including the most popular makes. You can also try out beds and air mattresses by prior appointment. So whether you're choosing specialist seating for yourself or for a friend or relative, or you're looking for a multi-product solution for a care home or hospital, you'll be able to try out the equipment and get all the information you need before you make a final decision. Please do contact us before you come, so that we can make sure the product you're interested in is in stock.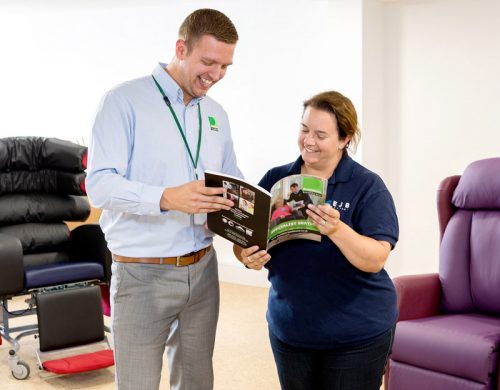 One-to-one advice to ensure you walk away happy
We're on-hand from the moment you walk through the door to help you find what you're looking for. We can talk you through the best specialist seating and equipment options for your particular needs, select products that match your requirements, then show you how they work before you try the equipment out yourself. Afterwards, we'll provide you with a personalised no-obligation quote which you can take away should you wish to think about it.
Sandy's Hydro Tilt has been safely delivered to No. 11 Greenhills Road, and everyone is so pleased to have it. Would you please pass on our thanks to all your team who have all been so helpful and co-operative and many thanks to you Annabell, for all the help and assistance you have given.
Maggie Gibson, Private Customer
I have purchased all our specialist ward chairs from Annabell and I can thoroughly recommend her for knowledge and customer service. Annabell is always very happy to bring a selection of chairs for trial and Premiere have a wide range.
Occupational Therapist, Neath Port Talbot Hospital
We have had incredibly positive feedback from everyone who attended the service development training, and colleagues finding the learning pods really useful and informative. It was lovely to meet you, and many thanks once again.
Occupational Therapy Team Lead, Wye Valley NHS Trust
We always have an exemplary service from yourselves and yesterday was no exception.
Andy arrived at 7.30pm with the HiLo bed which Adrian had ordered earlier in the afternoon. He cheerfully assembled it after what had already been a long day for him.
Thank you again.
Margaret Greaves, Horsfall House General Manager