TRY BEFORE YOU BUY
We've made choosing specialist seating easier
Talk with our team, try the options for yourself
Enquire now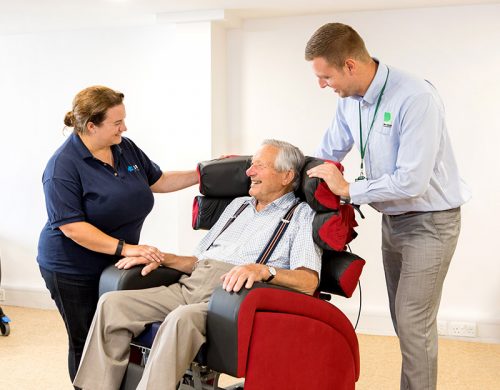 Come and try our most popular makes and models
Our Gloucestershire-based 'demo centre' stocks a wide selection of our chairs, including the most popular makes. You can also try out beds and air mattresses by prior appointment. So whether you're choosing specialist seating for yourself or for a friend or relative, or you're looking for a multi-product solution for a care home or hospital, you'll be able to try out the equipment and get all the information you need before you make a final decision. Please do contact us before you come, so that we can make sure the product you're interested in is in stock.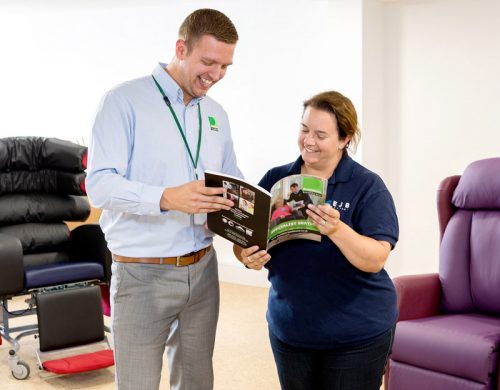 One-to-one advice to ensure you walk away happy
We're on-hand from the moment you walk through the door to help you find what you're looking for. We can talk you through the best specialist seating and equipment options for your particular needs, select products that match your requirements, then show you how they work before you try the equipment out yourself. Afterwards, we'll provide you with a personalised no-obligation quote which you can take away should you wish to think about it.
I would like to say thank you so much for organising dads chair so quickly. I got a bit emotional when he was wheeled out of his room for the first time. He found the chair very comfortable and the gentleman that delivered the chair was very helpful. He actually had his lunch at the table with the rest of the residents today! Many thanks again - you have made my dads last Christmas one to remember.
Inger Southorn, Private Customer
I contacted Premiere as I required some assistance with both access and thresholds within my house for my wife who has MS. Michael McHugh came to see us. Not only did we find him to be most knowledgeable providing us with excellent advice on equipment and how to best assist with our issue's, he was also an exceedingly pleasant and polite young man. I would highly recommend Premiere for both the quality of the service and the polite professional attitude of the staff.
Graham Plimmer, Private Customer
Thanks so much Nicola – for everything you do for us. You really are worth your weight in gold! Wishing you and your team a very Happy Christmas and New Year.
Louisa, Nursing Home Deputy Manager
This is an email to say thank you to Nicola and the Team for the brilliant customer service carried out today. We had a new resident arriving and it was essential she had the appropriate bed and equipment for her needs. Through your speedy service she will now be comfortable at The Coombs. Thank you for your prompt service, it was appreciated.
Carolyn Kilburn, Nursing Home Administrator