INSTALLATION, SERVICING, MAINTENANCE, BREAKDOWNS
Keep healthcare equipment up and running
Totally bespoke packages to suit your budget
Enquire now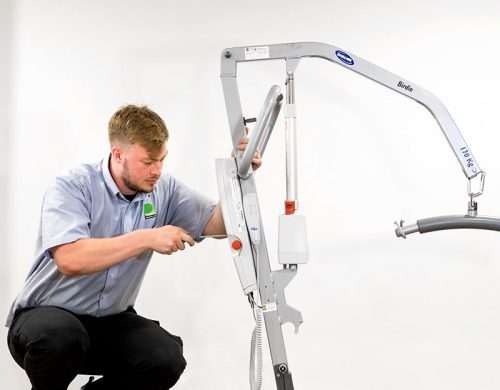 Expert care for a huge range of specialist equipment
We've been servicing healthcare equipment for hospitals, care homes, hospices and private homes for over 80 years. We've seen almost every kind of malfunction, and have fixed, maintained, serviced and installed just about every kind of specialist equipment brand there is. Our experience is renowned and why we're a well-respected provider of healthcare equipment servicing in the industry.
Overhead Tracking
Stair Lifts
Vertical Lifts
Mobility Equipment
LOLER Equipment (hoists, stand aids and slings)
Profiling Beds
Specialist Seating
Showing & Toileting Equipment
Pressure Area Care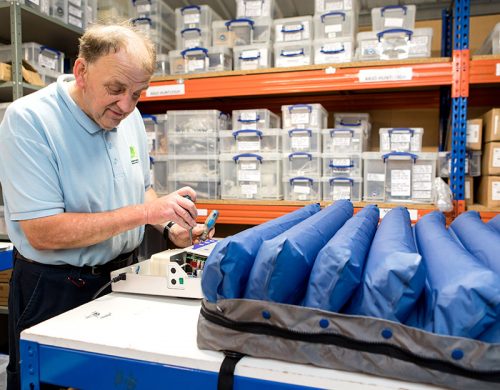 Tailor-made contracts to fit your needs
We understand that quality of life can be directly linked to the healthcare equipment a person uses. Which is why we believe in making servicing that equipment as easy and affordable as possible. We'll build a servicing contract around your needs, rather than an off-the-shelf solution , whether you're a multi-bed care home or a private individual. We also use one contract for all the healthcare equipment we service – making it a lot easier for you to manage.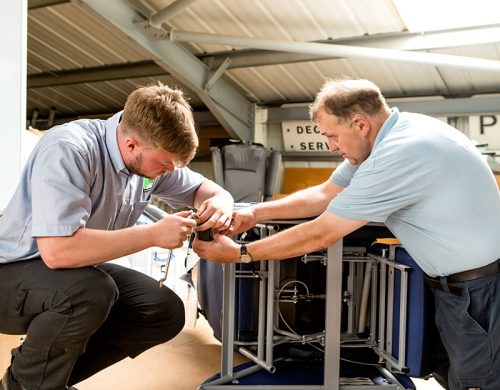 Reliable, trustworthy service engineers
Our service engineers are liked and trusted by hundreds of clients. They're highly-skilled and fully-trained (including in dementia awareness), have an unrivalled level of product knowledge, and are always up-to-date with the latest industry directives and manufacturer guidelines. They drive fully-stocked vans to repair on-site with minimum disruption or can provide you with a replacement if they can't fix your equipment, where possible.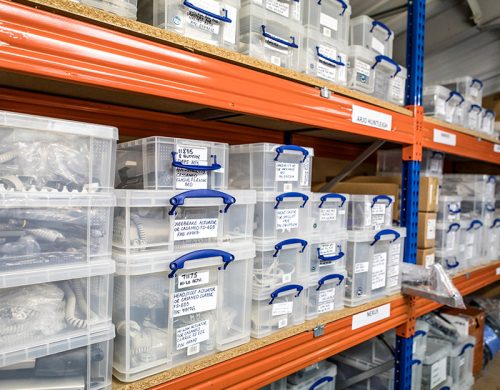 24/7 repair line and service
All our healthcare equipment servicing comes with dedicated over-the-phone support. So if your equipment breaks down, you have someone to turn to 24 hours a day, 7 days a week. When you call, you'll speak to a knowledgeable and experienced member of the team – not an automated voice – who'll run a full diagnostic to ensure things get fixed as quickly as possible. Avoiding unnecessary call-out charges.
I have purchased all our specialist ward chairs from Annabell and I can thoroughly recommend her for knowledge and customer service. Annabell is always very happy to bring a selection of chairs for trial and Premiere have a wide range.
Occupational Therapist, Neath Port Talbot Hospital
I just wanted to say thank you for squeezing a fourth client on the day for a seating assessment at such short notice, I really appreciated it. Mike was so supportive of the staff at the centre and fabulous with our clients. He really did provide a fantastic service. Thanks again!
Occupational Therapist, St Matthews Healthcare
First of all, I would like to express my deepest appreciation to you and your company for both your support and understanding of a very difficult situation that I am dealing with whilst trying my best to support Joyce with, whilst aiming to improve both the quality of her health and her life. Whilst you are a business, you are a business with a heart — a very rare quality these days, but one I highly value and respect.
Private Customer – East Midlands
Thank you SO much for supplying us with our Careflex chair – it arrived this morning, and we have already sat the gentleman out in it. He looks amazing and is very pleased to not only be out of bed, but also be out of his room! You are my little Santas!
Occupational Therapist, Stoke-on-Trent