FREE CPD TRAINING COURSES
Improving confidence with healthcare equipment
Individual or group training at your convenience
Enquire now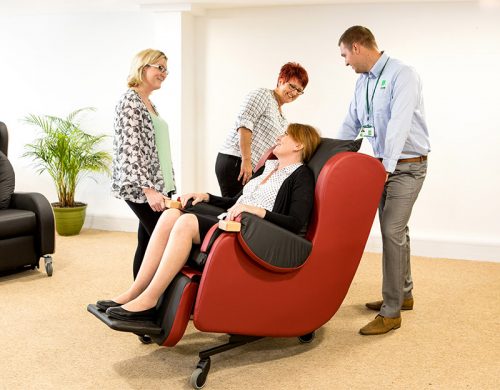 Full days or shorter sessions to help you give the best care
We've built our specialist seating training courses to slot neatly alongside your work. We offer shorter, more informal sessions in your choice of location, to explain and demonstrate the workings of individual products. The sessions are free of charge and highly-personable to give you the chance to become familiar with a good range of chairs or equipment.
In addition, we can create bespoke educational days for your particular requirements. We'll cover theory and practical, present the latest research and methodology around specialist seating and healthcare issues, and show real-world case studies of how the right equipment has improved lives.
All our training sessions are delivered by our expert seating assessors from Premiere Healthcare, so you are in very good hands.
Subjects we cover
Posture management
Pressure care
Seating patients with bariatric conditions
Moving and handling
I have today received the specialist chair for my father. He is delighted with his new chair which has made a huge difference to his quality of life.
Andrew, I can't thank you enough for the excellent, person centred and flexible approach you have provided for my client, you have been nothing short of excellent. I was very impressed and pleased to work alongside such a caring and knowledgeable rep, and provide a great outcome for the client. Thank you also for agreeing to leave the assessment chair with him to fill the gap between the chair being delivered.
Wiltshire OT
First of all, I would like to express my deepest appreciation to you and your company for both your support and understanding of a very difficult situation that I am dealing with whilst trying my best to support Joyce with, whilst aiming to improve both the quality of her health and her life.

Whilst you are a business, you are a business with a heart — a very rare quality these days, but one I highly value and respect.
Private Customer – East Midlands
I contacted Premiere as I required some assistance with both access and thresholds within my house for my wife who has MS. Michael McHugh came to see us. Not only did we find him to be most knowledgeable providing us with excellent advice on equipment and how to best assist with our issue's, he was also an exceedingly pleasant and polite young man. I would highly recommend Premiere for both the quality of the service and the polite professional attitude of the staff.
Graham Plimmer, Private Customer