FREE CPD TRAINING COURSES
Improving confidence with healthcare equipment
Individual or group training at your convenience
Enquire now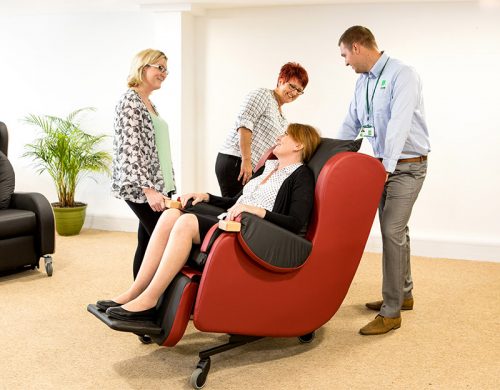 Full days or shorter sessions to help you give the best care
We've built our specialist seating training courses to slot neatly alongside your work. We offer shorter, more informal sessions in your choice of location, to explain and demonstrate the workings of individual products. The sessions are free of charge and highly-personable to give you the chance to become familiar with a good range of chairs or equipment.
In addition, we can create bespoke educational days for your particular requirements. We'll cover theory and practical, present the latest research and methodology around specialist seating and healthcare issues, and show real-world case studies of how the right equipment has improved lives.
All our training sessions are delivered by our expert seating assessors from Premiere Healthcare, so you are in very good hands.
Subjects we cover
Posture management
Pressure care
Seating patients with bariatric conditions
Moving and handling
I have today received the specialist chair for my father. He is delighted with his new chair which has made a huge difference to his quality of life.
I wish to say a very big thank you to you for your help and assistance in this matter. If you had not done as you did, we would probably have had to evacuate our residents. The list for bed repairs I will get to you as soon as I can. Many thanks for your help in this matter - I don't know what we would have done without you.
Manager, Athelstan House (Assisted Living Facility)
We always have an exemplary service from yourselves and yesterday was no exception. Andy arrived at 7.30pm with the HiLo bed which Adrian had ordered earlier in the afternoon. He cheerfully assembled it after what had already been a long day for him. Thank you again.
Margaret Greaves, Horsfall House General Manager
On the recommendation of the professionals who care for my mother, we recently contacted Premiere Healthcare regarding buying a more supportive chair. I have been so impressed with the service given by Christina, in administration, and Charlotte, who came to Mum's Nursing Home with samples and to measure for her requirements. They have been patient, kind and professional. Within a week the Hydro Tilt chair was delivered by the engineer. Mum is very pleased with her new chair. She looks so comfortable, with her body and head better supported. The need for handling between bed, chair and wheelchair is reduced and, with Mum in her new chair, we can wheel her straight out of the room for a change of scene.
Private Customer – East Midlands